Migration of Service from Nexon to Valofe Global


Migration ended on February 28, 2020 the remaining accounts that were not migrated have been deleted and can not be recovered
As part of the Unified Community Platform project, your wiki will be migrated to the new platform in the next few weeks. Read more here.
World
Maps | Dungeons | Familiar Farm | NPC's | Parties | PvP | Guilds | Raids | Bestiary | World Bosses
Midellas
Riders of Icarus takes place in the world of Midellas which comprises various regions. New regions are being discovered all the time, with even more familiars to tame.
Midellas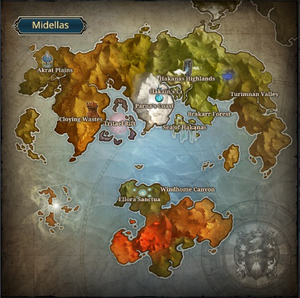 Regions of Midellas
Below are the currently discovered regions of Midellas.
Important Game Information | Social Media | Game Events | Quests | Cash Shop | Character | World | Guide Portal | Gameplay